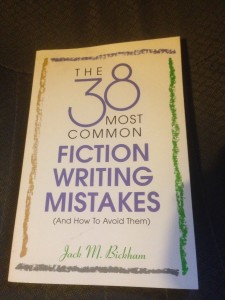 The 38 Most Common Fiction Writing Mistakes (and how to avoid them) by Jack M. Bickham is a slim but useful volume. It covers a wide variety of topics, each in a fair depth – most chapters are two or three pages long, explaining the nature of each mistake and how to avoid it.
Topics start with Don't make excuses – suggestions to avoid the procrastination that all writers seem to suffer from to a greater or lesser degree. They continue with topics such as Don't expect miracles, Don't lecture your reader, Don't ignore scene structure, Don't ever stop observing and making notes, Don't ignore professional advice, Don't forget sense impressions, and finishes with Don't just sit there.
The advice is sensible and thought-provoking, with probably more on general plotting and structure principles or the process itself than on specific writing issues. While this book is unlikely to directly influence your writing, it could help your attitudes and beliefs about your work.
The book is available in kindle or paperback, and the kindle version is available on kindle unlimited. There are more thorough books out there, but this does work as an interesting, relevant read as a present for a new writer, or as a general motivational book. Generally, though, there shouldn't be anything in here that comes as a big surprise to any regular writer.