One issue I'm sometimes asked to sort out is a bleed. So what is a bleed and when is it needed?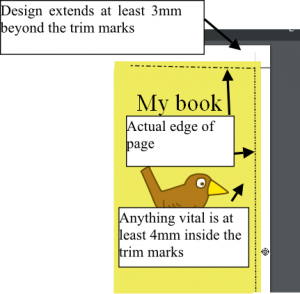 As part of the printing process, pages are trimmed. This is not normally an issue on print books, because any text would be well away from the edge,  but if you have illustrations or photos in the book that need to go right to the edge, then it's important to create the image slightly larger than needed. This way, when the page is trimmed, the image will bleed off it. This avoids an unsightly white line showing, should the trimming be a fraction off (which is very possible).
This is usually done in publishing software, which has a bleed feature built in to it. The software will add trim marks to the file, so that the printer can trim to the right size.
A bleed is always needed in a cover design.