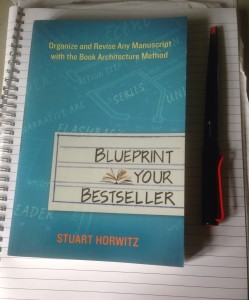 I have a large and growing collection of writing-related and editing-related books, and i thought it might be useful to review a few of them.
The first book I'm looking at is Blueprint Your Bestseller, by Stuart Horwitz. This book is aimed at considering the overall structure of your book. It applies to both fiction and nonfiction – this book itself was written using the same methodology – and does not touch on topics such as point of view, dialogue or showing and telling. Instead, it shows how to break down your work into series, scenes and an overall theme. By considering how these series develop, and the scenes in which series converge, you can reach a deeper understanding of what your book is about, and how to improve it.
This book is best used once you have a rough draft – action step zero is to write around a hundred pages, so it's ideal for helping you to make sense of your nano novel, for example. It then gives you  22 steps towards improving the structure and strengthening your content. These steps are practical and straightforward, when read in conjunction with the main text, and provide a clear way to produce a multi-threaded story, where the threads (or series) back each other up and support each other. For example, one step is to draw a target representing the theme that you've worked out, and to consider how close each scene is to that target.
Like many "structure" books, a worked example is given, but unlike some that rely on you having at least basic knowledge of the story under analysis, this one works with a commonly known fairy tale, The Ugly Duckling, and includes the full text of the tale, in both simple and annotated versions.
This is rapidly becoming a favourite of mine, and the techniques included are proving very useful when I carry out developmental editing.