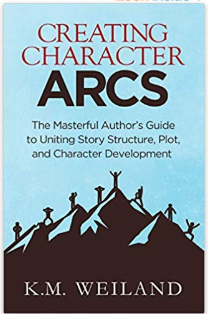 What is the lie your character believes? What do they want, as opposed to what they need? How are they going to travel from their starting point to their end point?
These are all questions this book will guide you through asking, as you plan out your character arcs. The link between character arc and story arc is studied carefully, and examples are given from several sources, including Toy Story and A Christmas Carol, so that there's bound to be several that you recognise.
The positive arc, negative arc and flat arc are all discussed in detail, in relation to the standard three-act structure. An FAQ offers answers to such issues as subplots, minor characters and impact characters.
If you're looking for a way to make your characters more meaningful, and to integrate character into plot, then this book will prove a helpful guide.