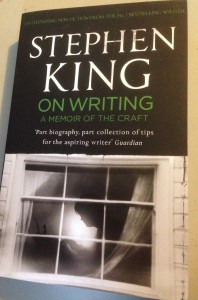 On Writing by Stephen King is probably one of the most famous books around on the topic of writing. I first read it years ago, and while working through books for this blog I decided it was about time I read it again.
I was half-expecting to slog through the autobiography section, but found that King tells stories in such an entertaining fashion that I was laughing out loud. It's not a complete story of his life, but some of the highlights and stories from his childhood and early experiences as a writer.
The second section, The Toolbox, starts off with an anecdote about his uncle's old toolbox, and develops into a description of what he sees as the writer's toolbox: the essential tools that every writer should take with them everywhere, in order to be able to use whatever tool best does any given job. Here, the importance of issues such as grammar and vocabulary are discussed.
The third section, On Writing, contains more general advice on writing, including King's own writing processes. You might or might not agree with all his points – he is actively against plotting, preferring to allow the story to develop from the situation and characters, for example – but you will find them enlightening and thought-provoking.
The fourth section, On Living: A Postscript, describes his experiences on being hit by a van and badly injured. Again, King brings the story to life with a few vivid details, and the account is very readable.
The final sections include an example of the first and second draft of an excerpt, with detailed explanations as to why he made the changes he did, and a detailed list of recommended books. King is a prolific reader – one thing he is clear on is that if you don't have the time to read a lot, you'll never be able to write successfully – and the list comprises fiction books he has read and recommends.
If you take nothing else from this book, you will get an idea of the dedication and hard work it took King to get where he is today, and you'll have a much better understanding of what life as a successful writer is like and how to get there. I completely understand why this is one of the books that is constantly recommended to writers and would-be writers.