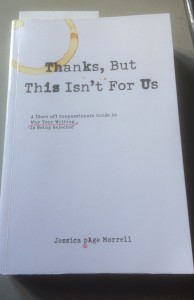 While the previous writing-related books I've reviewed have been suitable for any active writer, this one isn't for the faint-hearted! I would definitely suggest that Thanks, But This Isn't For Us by Jessica Page Morrell, subtitled A (Sort of) Compassionate Guide to Why Your Writing Is Being Rejected, is aimed at the more confident, polished writer who is nearing the point of either seeking an agent or publisher or getting ready to hit the self-publish button.
Written by a developmental editor who claims to have been called the Angel of Death by a critique group she ran, this book goes through all the common problems she sees in manuscripts. For each category she looks at, such as first impressions, she gives a detailed explanation of that aspect, why it is important and what it needs to include. She breaks down the categories of what she sees as the dealbreakers (dud prologues, trying too hard, not enough happening, too much happening), all with detailed explanations of how and why they are a problem, and then gives options for improving that aspect (dialogue, anecdote, suspense, theme, setting). Examples are given from published works and from novels she's come across that have problems (heavily disguised so as not to embarrass anyone!). Each chapter concludes with exercises and tips for your own work, and a list of further resources.
The fourteen chapters include first impressions, plot, style and language, conflict, avoiding dialogue disasters, characters and writing memoirs. The final chapter is entitled Driving an Editor Crazy: Goofs, Gaffes and Howlers That Sink a Manuscript (dippy and oddball names, creepy sex scenes, fact checker breakdown, head hopping, inconsistent voice…).
There is also an epilogue that covers living the writer's life, with tips and advice on how to make writing more than just a hobby. The first section, entitled Toughen Up, maybe should have been at the front! The book concludes with a glossary of relevant words – "The lingo of writing; The lingo of publishing" – which covers relevant words or phrases, such as crucible, inciting action, subtext, earn out, imprint, remaindered; all the vocabulary that the author wants to be able to use intelligently in discussions about their craft – or rather about their business, because this really is the attitude that the author is expecting from her readers.
There is a lot of valuable material in here, to the extent that I feel it would be off-putting to the writer who is relatively new to the craft. The author really does not pull her punches, and is almost intimidating in her fervour ("If I sound like a badass on these pages, keep in mind that I'm a pussycat compared to the suits in the publishing world. You know, the folks who send out the rejection letters."). However, close reading and analysis would probably help any writer on the cusp of publishing standard to figure out any remaining problems and tidy things up.
If you're putting your first novel together, then there are plenty of other books out there to hold your hand and guide you gently. If you're submitting and not getting the results you want, or are about to take that first step of sending your work out to find a publisher, then this book would be a very useful addition to your library. If you're self-publishing, then the responsibility to make sure your work is of publishable standard rests on your shoulders.
The interior of the book is clearly laid out, with clear headings and subheadings. Checklists are included for your own work. The writing style is clear and to the point. I love the simple but effective cover design on the paperback, and at just under 350 pages it's a fair-sized book. The kindle version isn't much cheaper than the paperback, and in this case, as in most writing books, I'd definitely recommend getting the paperback version.