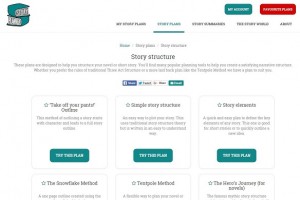 There are many different approaches to planning a novel. Do you start with characters and a setting and see what happens? Do you plan out every detail thoroughly before starting? How do you structure the content?
One tool that offers to help you with all that is www.storyplanner.com, a website where you can find a collection of different templates to complete online. There is a selection of plans to choose from, many well-known, such as the Snowflake method or the Three Act structure, as well as other, lesser known methods that are equally useful. Other sections on the website include facilities for developing your characters and your story world, and creating a summary or synopsis of your novel.
Plans can be created and then downloaded for further use, in Word, PDF or text format. A free membership allows you to create one story plan, which would need to be deleted in order to create a new one, while premium membership allows unlimited plans.
The variety of plans means that you are bound to find something that suits your method of working, and the advice that accompanies each plan will help you structure your thoughts and develop your ideas. Screenplay plans are included alongside those for novels and those applicable to either medium. The ability to favourite plans is an added bonus, as you start developing your planning skills. Links take you to further information on some of the plans.
I'm currently trying out this site for my own projects, and I'm finding it's a useful way to keep my ideas together and organised. As it's online, it also means that it's accessible from just about anywhere. As a bonus, it also appears to be fully accessible from tablets, meaning that planning is easy to do while out and about, as long as you have internet access.